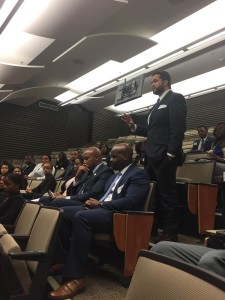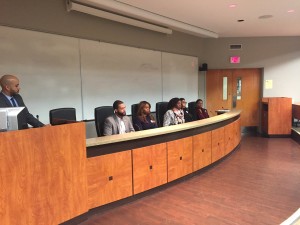 We are gearing up for our 3rd Annual "Pathways and Pipelines to Success: Martinet-BLSA Career Development Seminar." This annual event is scheduled for Saturday, January 27, 2018 at Tulane University School of Law, from 8:30am-4pm, and co-sponsored by the Tulane and Loyola Law School BLSA Chapters.
Last year, Pathways and Pipelines had over 60 students in attendance from across the state, and over 25 practitioners volunteered. Consistent with our deep commitment to expanding the diversity pipeline, we have expanded this year's program to offer even more opportunities for networking and support for law student participants.
Agenda
8:30 AM Check-In and Continental Breakfast
9:00-10:00 AM Speed Networking
10:15-11:00 AM Panel #1: Alternatives to the Practice of Law
11:15-12:15 PM Panel #2: Paths to Practicing in the Public Sector
12:30-1:30 PM Lunch & Keynote Speaker
1:30-2:30 PM Panel #3: Paths to Practicing in the Private Section
2:45-4:00 PM Mock Interviews/ On-Site Resume & Cover Letter Review Station
Student Registration
Registration is free and open to all law students across the state. Please register online no later than January 15, 2018. Mock interviews are only guaranteed for the first 50 students who sign up, so don't delay! Sign up today.
Additionally, we will be providing feedback to students on their resumes and cover letters who submit them in advance, via email, by the registration deadline. Students will receive feedback on their resumes and cover letters from an experienced practitioner prior to the event.
Call for Practitioners to Volunteer
We are currently seeking volunteers for the 2018 program. If you are interested in participating in some capacity, we ask that you kindly fill out this form, sso that we can collect your contact and biographical information. This information will be shared with the student participants for networking purposes. Your participation is critical to the success of this program! We hope to expose BLSA members from all four schools to the diverse lawyers in our community. Your unique background will be of great interest to the participants during the program..
Why should students attend

?
"It's a phenomenal networking opportunity, from mock interviews and resume review to panels with practitioners from the corporate side and public service, 'Pathways and Pipelines' is one of the most dynamic events that you will attend as a law student."
~ Richard "Monty" Montgomery, II, BLSA President and Law Student, Southern University, Class of 2018
"It is important to realize you do not learn everything you need to know about entering the legal profession by sitting in a classroom. Pathways and Pipelines to Success will help fill in those practical gaps you need to be a successful attorney while also teaching you how to embrace the challenge!"
~ Natalie Paul, BLSA President and Law Student, Tulane University, Class of 2019
"The Pipeline to Success Program not only helped me increase and improve my interviewing skills, but it also introduced me to various occupations within the legal field and connected me with prominent, black legal professionals and practitioners in various lines of work. This program included practitioners from practically every area of law who were not only eager, but also excited to help us achieve our summer and future academic goals. The assistance, support, and knowledge that I received regarding interviewing, resume drafting, applying for internships, and navigating the legal field and work place as a person of color was truly invaluable! Therefore, I can hardly wait to see what this year's program has to offer and how it will change our members' lives and their future academic and professional successes."
~Bianca Moore, BLSA President and Law Student, Loyola University, Class of 2019
"The resume and cover letter portion of the Pipeline to Success Program was really helpful to me. I was able to receive feedback from actual employers. The employer perspective was a complement to the insight provided by career services. The improvements made to my cover letter have inevitably enhanced my employment prospects."
~Darrinisha Gray, Law Student, Loyola University, Class of 2019
 "The Pathways and Pipelines to Success Program in 2017 changed my entire perspective on interviewing for internships and clerkships, the benefit of having an effective resume, and being able to network with successful lawyers and judges. As a result of my attendance at this astounding event, I was able to network with an attorney and I received an internship because of our connection. Without attending this event, I doubt that I would have gathered the skills and abilities to confidently walk into an interview and believe that I can be an essential addition to that firm or business."
~Monette Davis, Law Student, Southern University, Class of 2019
"As a law student, you have so many burning questions, yet no one to really give you REAL answers. During the Public and Private Sector seminars, I was able to ask those questions and receive genuinely helpful answers. Additionally, the networking opportunities helped me to land amazing clerkships for my 1L and 2L summers!"
~Farren Davis, Law Student, Southern University, Class of 2019
Pathways and Pipelines to Success was an amazing experience that allowed me to meet and receive advice from practicing attorneys within my field of interest. Mr. Corey Vidal took the time out to review my resume and cover letter. He extended excellent tips on ways to make myself more marketable as a student after conducting a mock interview . While networking at the program I was able to meet Mr. William Snowden, a supervising attorney at the Orleans Public Defender's Office. This networking experience led to an amazing semester long internship at the Public Defender's office and the opportunity to gain the ongoing mentorship of Mr. Snowden. At the event I also met Ms. Cashauna Hill of the New Orleans Fair Housing Action Center who I have continued to keep in touch with. This relationship also led to securing an internship with her organization which I am excited to participate in next semester! I would suggest any student, especially 1ls, who can participate in the program to definitely do so! Not only does it create a platform to network and possibly land future Internships and jobs, but it also provides the opportunity for students of a wide array of interest to meet a mentor in their area of interest! I'm so grateful the Martinet Society and the Black Law Student Association coordinated this awesome event!
~Eliana Green, Loyola Law School Class of 2019