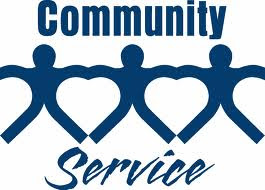 The aim of the community service committee is to coordinate community service efforts for the organization consistent with the mission of the organization and the priorities of the Board. As Co-Chairs for the Community Service Committee, we are excited to let everyone know about our upcoming community service events.
For more information, please email Co-Chairs Marcus Hunter and Claire Ojeh.
Join the Community Service Committee
Please join Claire and Marcus for the next Community Service Committee Meeting on: December 13, 2017, 12pm.
Dial (319) 527-9156 and enter Access Code: 580673.
If you have any questions, please email Community Service.
If you are interested in joining the community service committee, please be sure to select it when renewing your membership. You may also email us at anytime!
Crescent City Cafe – Third Saturday of Each Month
This year, on the third Saturday morning of each month, we will be partnering with Tulane and Loyola's BLSA chapters to serve breakfast to homeless and low-income residents of New Orleans at the Crescent City Cafe.
The mission of the Crescent City Cafe is to serve breakfast to New Orleans' homeless and low-income residents with dignity and to connect young adults together in service to our community. Crescent City Cafe desires to demonstrate the love of God through actions and words and to bring awareness to the issue of homelessness. Founded in February 2009, the Cafe simulates a restaurant, complete with breakfast specials that change each time. The volunteer servers take orders from guests and run them back to the kitchen, where other volunteers are at the helm — cooking up the orders and plating the food.
Come at 7:00 a.m. SHARP to the back doors of Rayne Memorial United Methodist Church, 3900 St. Charles Ave., 70115. The back doors are actually located around the block on Pitt St. The streets on either side of the church are Constantinople and Gen. Taylor. We will be done with volunteering by around 10:30 am.
Please click on any of the dates listed below to secure your opportunity to give back to the community! Sign-up fast as the availability for these dates is limited. We have a limited number of volunteer spots available, so please only sign up if you actually intend to come!
December 16, 2017
Sign-ups for the 2018 dates will be available soon.
Upcoming Events
December 13, 2017: Annual Toy Drive during our Holiday Party. Please bring a new, unwrapped toy to donate for our annual toy drive during our holiday party, being held at Café Reconcile from 6-9pm! If you prefer to make a monetary donation to the toy drive, please make your check out to the "New Orleans Martinet Legal Foundation, Inc." Toys will be distributed to children from the Treme and surrounding neighborhoods at "Toys from Troy," presented by the Trombone Shorty Foundation, at Whole Foods (300 N. Broad St) on Friday, December 22 at 3pm.
January 20, 2018: The City of New Orleans and Opportunity Centers are offering a legal assistance day to Graduates of the Opportunity Centers (STRIVE NOLA, TCA, JOB1, Urban League, Goodwill) who are 18 years or older and possess a valid ID. (People who have not graduated from the Opportunity Centers won't be turned away, but the event is marketed to graduates only.) The purpose of this event is to provide participants with legal information on how to resolve minor legal issues and remove those barriers to employment. The Legal Fair will be held on January 20, 2018 from 10am to 1pm at Milne NOLA for Life Center, 5420 Franklin Ave NOLA 70122.
If you are able to volunteer for this event, please fill out our sign-up form. Martinet will also be partnering with other legal aid organizations at this event. More information for attorney volunteers is available here. If you have any questions, please email Claire and Marcus at: Community Service.
A free CLE training for this event is tentatively scheduled for Thursday, January 11, 2018 from 3pm to 6pm. Details are forthcoming.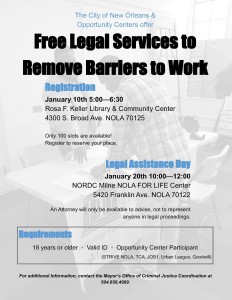 Spring 2018: High School Oral Advocacy Competition: We will need your help to coach and train an unstoppable team at next year's NBA Convention, to be held in New Orleans, LA. If you are interested in volunteering as a coach or helping to recruit student participants, please email Claire and Marcus at: Community Service.