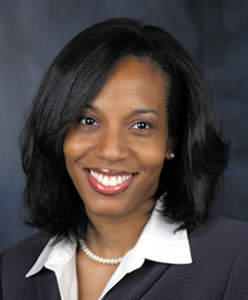 The Greater New Orleans Louis A. Martinet Legal Society, Inc. is excited to recognize our members for their notable contributions to the community, and exemplary commitment to the ideals of our founders. We are pleased to honor Adria N. Kimbrough, Esq., who has advised and mentored aspiring law students at Dillard University for the past four years. Formally appointed as the Pre-Law Advisor for Dillard's Center for Law and Public Interest in 2016, Ms. Kimbrough created a Law School Admissions Test (LSAT) Boot Camp designed to increase student test scores, and exposes students to the legal profession by hosting regular workshops and lectures from legal giants like Chief Judge Carl E. Stewart of the United States Fifth Circuit Court of Appeals and past American Bar Association President Paulette Brown.
This is not the first time that Ms. Kimbrough's talents brought her to the law and higher education fields. Over the past 15 years, Ms. Kimbrough served as an Assistant Dean of Students at Cornell University, University Attorney at Albany State University, Associate at the Cross, Gunter, Witherspoon and Galchus law firm in Little Rock, Arkansas, and as Associate General Counsel for the University of Arkansas System. Additionally, Ms. Kimbrough serves as Of Counsel with the Kullman Law Firm in New Orleans, Louisiana and is a member of the Alabama, Arkansas, Georgia, and Louisiana Bar Associations.
In the New Orleans community, Ms. Kimbrough most recently served as a Board Member of the Louisiana Center for Women in Government and Business and as a Commissioner for the New Orleans Recreation Development Commission. She also serves as an Advisory Board Member for College Track New Orleans and the teacher for the Adult Sunday School class at First Grace United Methodist Church where she and her family are members. The Martinet Society is not only grateful for Ms. Kimbrough's service to the New Orleans community, but is also grateful for her work to inspire and groom the next generation of lawyers of color.