We are thrilled about the 2017 end of the year CLE, "With Liberty and Justice for All," that is taking place on December 1, 2017, at Frilot LLC. We have carefully selected a group of dynamic speakers who have expertise in the areas in which they will be speaking. December 1st will prove to be a great day of learning and fellowship! We can't wait to see you there!
Dues Paid Martinet Members can earn eight CLE credit hours for only $120! The fee for Non-Members is $180. Lunch is included with all full day registrations. If you do not need a full day of CLE, we are also offering hourly CLE credit at the rate of $20 for members and $25 for non-members. If you choose the a la carte option, and want to join us for lunch, lunch will be offered for $15.
To take advantage of the discounted CLE rate and other great benefits, join or renew your membership today!
End of the Year CLE Featured Speakers: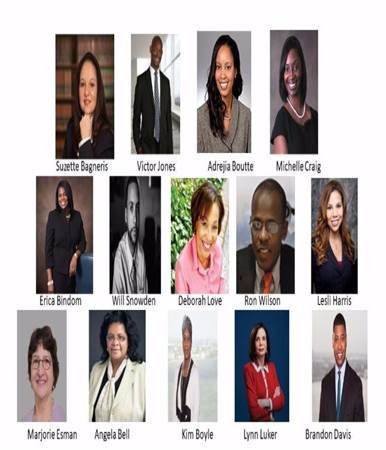 *Not pictured: Claire Ojeh
With Liberty and Justice for All Agenda
7:00 a.m. – 8:00 a.m.
Registration
8:00 a.m. – 9:00 a.m.
The Challenges and Impact of Class Action Lawsuits in Impoverished Communities
Suzette Bagneris, Litigation Attorney – The Bagneris Law Firm, L.L.C.
9:00 a.m. – 10:00 a.m.
The Civil Right of Special Education
Erica Bindom, Staff Attorney – Adams & Reese LLP and Victor Jones, Associate – Deutsch Kerrigan, LLP
10:00 a.m. – 10:15 a.m. – Break
10:15 a.m. – 11:15 a.m.
The Consequences of Social Media in the Legal Profession (Ethics)
Claire Ojeh, Of Counsel – Davenport & Kim, APLC and Adrejia Boutte, Associate – Christovich & Kearney, LLP
11:15 a.m. – 12:15 p.m.
Non-Unanimous Juries in Criminal Cases: An Examination of the Racist Roots and Shameful Fruit
Angela Bell, Law Professor – Southern University Law Center; Majorie R. Esman, Attorney at Law; and Will Snowden, Founder of The Juror Project and Orleans Public Defenders Supervising Attorney
12:15 p.m. – 1:00 p.m.- Lunch (Included for full day registrations)
1:00 p.m. – 2:00 p.m.
Equal Pay is Here to Stay: The Current State of Pay Equity
Kim Boyle, Partner – Phelps Dunbar LLP; Ron Wilson, Of Counsel – Blake Jones Law Firm, L.L.C.; and Michelle Craig, Managing Partner – Transcendent Legal (moderator)
2:00 p.m. – 3:00 p.m.
Immigration Law in the Era of President Trump
Brandon Davis, Partner – Phelps Dunbar LLP
3:00 p.m. – 3:15 p.m. – Break
3:15 p.m. – 4:15 p.m.
The Legality of Offensive Trademarks
Lesli Harris, Member – Stone Pigman Walther Wittmann L.L.C.
4:15 p.m. – 5:15 p.m.
Facing and Managing the Silent Saboteurs to Equality -Professionally (Professionalism)
Deborah Love, Vice President, Special Assistant to the President -Tulane University and Lynn Luker, Of Counsel – Stanley, Reuter, Ross, Thornton & Alford, LLC, former Judge Pro Tempore for Civil District Court
Program materials are available for download.